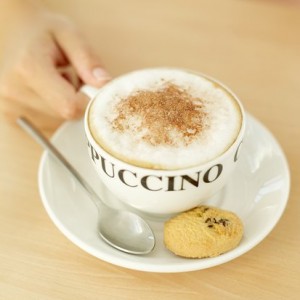 I paid for my cappuccino and sat by a nearby table waiting for it to be served.
And waited. And waited. And waited.
Waiters swirled by with trays of cappuccinos for other customers.
I could smell the caffeine.
I wanted mine and I wanted it know.
Being coffee deprived for ten minutes, I started to twitch.
I motioned to a waiter in my usually suave way and said, 'Excuse me, where's my cappuccino?'
'I'll go and see what's happened to it'.
He disappeared into cappuccino land behind the counter.
Another two minutes went by and I was desperate.
I waved to another waiter and said 'Ah, where's my cappucino?'
He  nodded his head and disappeared.
I had two waiters on the trail – but still no cappuccino.
I wondered what they could possibly be doing.
A couple of minutes later a third waiter appeared from cappuccino land with a cappuccino.
He walked towards me and placed this elixir on the table and said 'sorry for the wait.'
I said, 'thanks'.
I took my first sip.
It was lukewarm.