Victorian Hill Climb Championships – Phot0 #2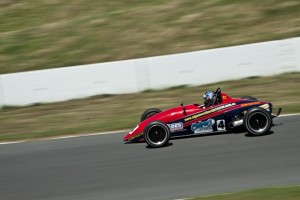 I used my cannon 24-105mm lens to capture this shot. I was trying to keep the car in focus and the background blurred to give it a sense of movement. Also I allowed enough space to the left so the car looked like it was traveling along the road.
I took a few action shots from a distance but to get close ups you need probably a lens ranging from 200-400mm which costs a zillion dollars. Unless you are a professional or an amateur with a bucket load of money then it's worthwhile.
For this 'little poor beggar (me) I'll stick to the lens I have.