We went into town to see Daniel Kitson during the comedy festival the other night and had planned to eat at our favourite Greek restaurant.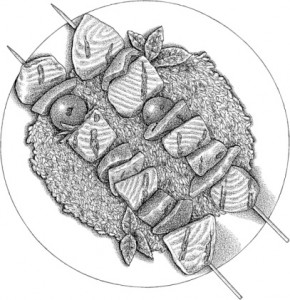 It was shut so we walked down the road and checked other Greek restaurants nearby.
Big mistake.
We decided to go into the second restaurant and was welcomed by a pleasant waitress who we found out later was from Berlin and had just started the night before.
We were ushered towards the back of the restaurant near the toilets. Not my favourite position.
Anyway, the waitress was running around taking orders and after about 15 minutes she came over, apologised and said they were understaffed. We checked the menus and ordered drinks and a meal. I ordered a souvlaki.
Then time stood still.
We waited. And waited. And waited.
The drinks finally arrived 20 minutes later with apologies again for the slow service.
Then we waited again – 15 minutes – 30 minutes – 45 minutes. In between all this we tried to capture the attention of the waitress or any other living thing to find out where our meals were.
We kept getting apologies and I'm the sure the kitchen was in Athens as no meal had arrived.
After an hour and another apology by the cook/manager/apologist –  my souvlaki had finally made the journey to my table.
That souvlaki must have crawled on its hands and knees. It was the slowest souvlaki to arrive but the quickest souvlaki I had devoured
As we paid the bill the restaurant the manager was all smiles and said, 'thank you'.
Grrrrrrrr!