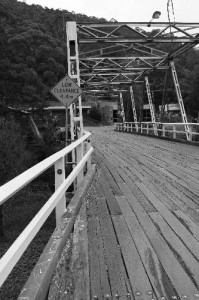 The Bridge is a flash presentation of black and white photos I took recently of the Brisbane Bridge in Warbuton, Australia.
Sue and I had a lunch break during our planning day and I wandered off to take some photos. I walked down along the creek and up a walkway and crossed the bridge. I'd planned to take some shots of the main street in Warburton.
As I walked across the bridge and headed towards the main street I changed my mind. I walked back to  the bridge and was inspired to take photos of it.
I took shots of various angles and when we got back, Sue put together this flash presentation.
I hope you enjoy a walk along 'The Bridge'.