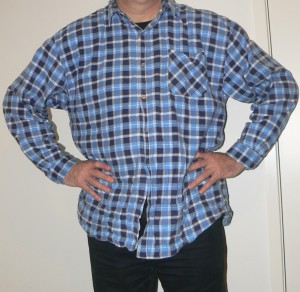 It's not a good look to enter an upmarket clothing store wearing a bogan shirt and a beanie.
The salesperson who saw this 'apparition' must have thought I was a bum.
All I needed was a 'thousand yard stare' and I would have been ejected by security.
But I managed to hang in there and look at the coats on special. I avoided the temption to check the pockets for some spare change.
The salesperson occassionaly glanced towards me in case I jammed a few coats under my arm and did ' a runner'.
Just as she was about to press a security buzzer, Sue walked in and gave me some instant credibility.
I was no longer a 'vagrant' but a potential customer.
Sue helped me try on a three-quarter-length coat and the fit was perfect. From the neck down to my calf muscles I looked like a real 'dandy'. Though the rest of me needs a lot of work.
Anyway, I decided to buy the coat and opened my wallet and to the delight of the salesperson, no moths flew out. Just my credit card.
The next time I rush out and go shopping I must check my shirt.
Maybe I'll wear my new three-quarter-length coat over my bogan shirt.
So I don't look wrong.
Footnote: Bogan – lower class