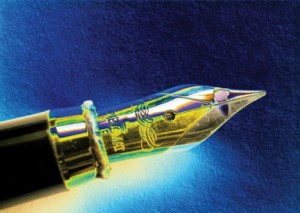 My idea of a luxurious writing instrument is a sharpened HB pencil.
Not a $14,000 pen!
We discovered this little shop with large-priced pens while we were in town for various business meetings.
Sue spotted the shop and went in and I spotted the prices and waited awhile before I entered. I made sure my HB pencil was out of sight.
Otherwise I may have been chucked out for not being the 'right' sort of client. Which really translates to 'no way will I spend 14,000 bucks for a pen unless it comes with four wheels, an engine and a name tag – Rolls Royce'.
There were cheaper pens – $9,000, $5,000, $2,000 – but no HB pencils so I said to Sue 'I'm out of  here".
Sue stayed in the store and chatted with the shop-keeper.
I waited out in the rain but I was happy too.
Because I was $14,000 richer – I did not buy the pen!
Anyway, I'm easy to please. I'm happy with my HB pencil.