Well, I had a flood of reponses to my previous post (one – not, it wasn't me) but no-one spotted the errors.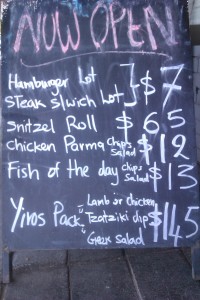 Here's the photo again. Have a closer look and you'll see :
snitzel should be schnitzel
hamburger  lot and steak s/wich lot presumably should be with the lot
there are no decimal points in the prices of the 'Snitzel' Roll ($65) or Yiros Pack ($145)
And about the last one, either they ran out of chalk or that's one expensive fish shop!
I reckon if they try to sell those items at those prices then the next sign you'll see will be  Now Closed!