This duck happened to be sitting nearby and I grabbed my camera and took a few shots. It happened in Warburton 77 km east of Melbourne, Australia, just alongside the Yarra river that runs beside the town.
Sue and I often go there to do our business planning during the warmer weather.
The duck's silver bill is quite striking and looks like it has been coated in chrome. The feathers look soft enough to reach in and stroke, although I wouldn't recommend it with that silver bill and stare.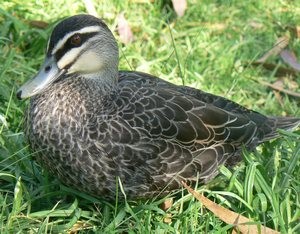 The specs are f/4 – 1/80 sec – isp-80
Footnote: Warbie is short for Warburton and I think it's a duck – it looks like a duck – it quacks like a duck – then it must be a …….