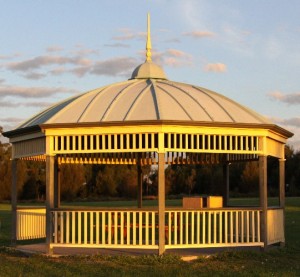 I was in the Cheltenham area around 5.00pm and took a shot of this rotunda in the Karkarook Park, a wetland and recreational area.
What I like about this photo is the way the light created a golden effect on the rotunda.
It was one of my last shots as I started to leave.
I had taken a number of shots beforehand of the lake and birds, experimenting with the shutter speed but after awhile I became bored.
It's interesting how sometimes you go with a plan to take photos and then a 'happy accident' occurs.