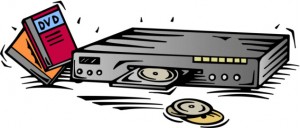 Well, there goes the DVD player.
It died last night while we were watching an episode of 'The Wire'.
Technically, the Ho7 message appeared indicating the motor was not working.
In other words, it's stuffed.
Hmm, these technological machines don't last very long do they?
Besides an owners manual they should have provided me with a sledge hammer.
That way when it technically dies I can then give it the last rites.
A few whacks of the sledge hammer would help me overcome the feeling of being emotionally crushed.
And it will also  make sure that darn Ho7 message never appears again.
Well, not at least until I buy the next dvd player.