Our drive from Kathmandu airport to the guest house was organised chaos.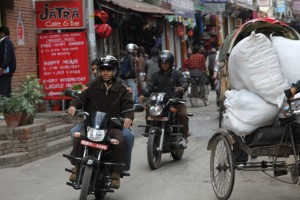 Cars, buses, motorbikes, taxis, trucks, guys furiouslypedalling their three wheel bicycled carriages carrying tense tourists, street vendors with their fruit and wares atop of bicycles; all battling for the prime position on the road. The centre. Head on collisions narrowly averted by the constant bipping and last second decisions to give way.
Each potential disaster was nonchantly waved away as pedestrians walked, shuffled, meandered in all directions. Vehicles swerved as pedestrians simply held up a hand to slow the oncoming Kamikaze drivers.
And yet I did not see one accident.
Any one of the many close shaves would have caused road rage here in Melbourne, Australia. But in Katmandu it was normal driving conditions.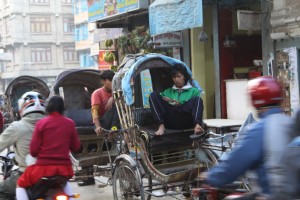 I only saw one set of traffic lights during my stay in Kathmandu.
And I noticed the odd traffic cop with a whistle. I thought 'why would you bother' but they had a job to do and that was to keep order from the chaotic traffic and not get run over themselves.
After a day of observing the mayhem on the roads I started to feel the rythym of the traffic. The 'anything goes' rhythym.
I also started to became a Kathmandu pedestrian (a westernised version)  waving away hurtling traffic coming towards me. I knew they would miss me at the last minute. Had this happened at home I would have dived into the nearest gutter for safety.
It's been four weeks since Sue and I got back from Nepal. We attended the  World Appreciative Inquiry conference and delivered our 'Power of AQ/KQ workshop in Kathmandu.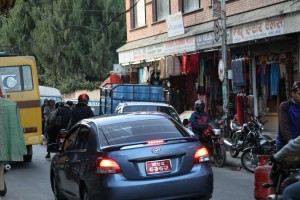 You know. I miss the traffic of Nepal. Here in Melbourne it is so orderly and boring yet we still have accidents.
When I go back to Nepal I might even try and become the 'ultimate warrior' and drive on the roads.
It would be kinda of fun playing road 'ping pong.'
Footnote: View our three flash presentations: The Conference – Chitwan – Kathmandu