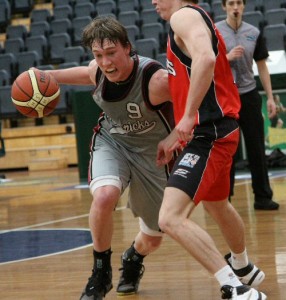 This is one of many photos I took at the 2010 McDonald's National Junior Classic tournament here in Melbourne, Australia.
The u/16 and U/18 boys' and girls' teams played at Dandenong stadium and the U/12 and U/14 boys' and girls' teams played at Albert Park stadium.
This photo features players from the U/18 teams, Eastern Mavericks and Northern Suburbs.
It's been many years since I have attended a junior basketball tournament.
The reason why I attended was to test my camera out.
And also for research on my screenplay which deals with male relationships with a basketball backdrop.
For those into the techie stuff I used my Canon 50D camera with a 24-105mm zoom lens. I used manual (my first time) with 1/500 sec, 3200 ISO. The lighting in the stadium was average and I wish I had a flash which I will buy once I can afford it. Photography is not cheap once you get into it.
I'm sorting through all my photos and intend to create a 3 minute flash presentation with a soundtrack.