This is the first of two of posts on our recent adventures in Nepal.
We ran our 'Power of AQ/KQ' workshop for the World Appreciative Inquiry conference held in Kathmandu recently.
I brought my new 50D canon camera along and ended up taking nearly 24oo shots!
This photo is one of my favourites of the conference because of the theme of old and new.
It was taken at the back of the main conference hall and the people behind the computers were the online conference team.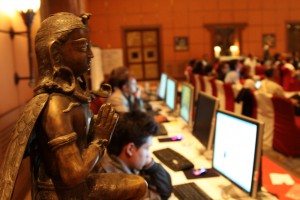 There are also three flash presentations we created of our stay in Nepal – The Conference – Chitwan – Kathmandu.  If you are interested in seeing them click here 2009 World Appreciative Inquiry Conference.