Here's the snaps I took of night time Fitzroy a few weeks ago.
I was coming home from the airport after running chair chi workshops interstate and Sue and I decided to grab a bite to eat in Fitzroy.
The photos were taken on my mobile phone in Kerr and Brunswick Streets.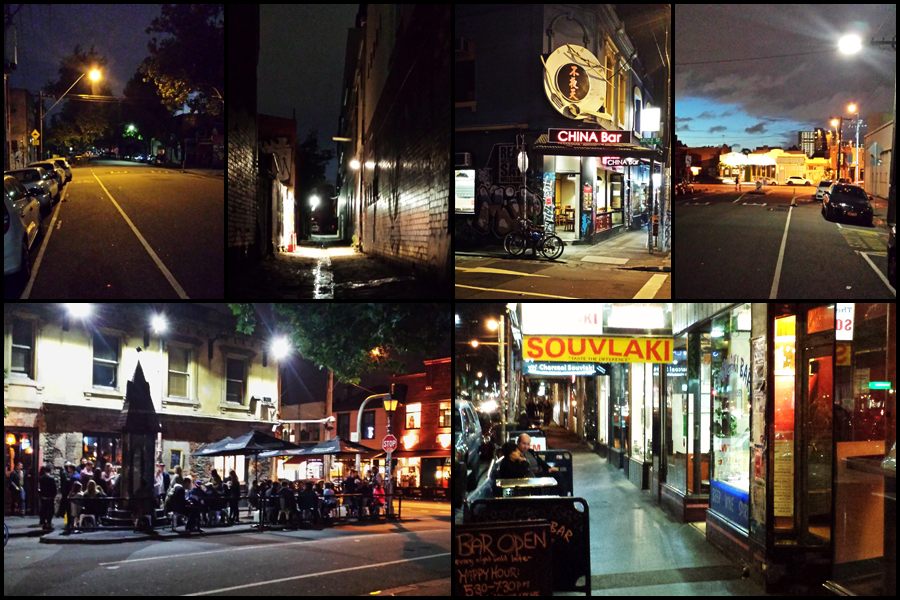 Photos Clockwise:
1 – Kerr St, near Nicholson street looking towards Brunswick Street
2 – Lane way between Brunswick St and Kerr St
3 – Corner of Argyle and Brunswick St – what used to be Mr O'Brien's milkbar in the 1960s
4 – Kerr St, near Nicholson St looking towards Carlton
5 – Brunswick St, near Johnston St – where we had a delicious souvlaki meal
6 – Corner of Kerr St and Brunswick St, the Evelyn Hotel
The photos in Kerr Street look well lit up but it's actually very dark – just like it was in the 1960s at night time.