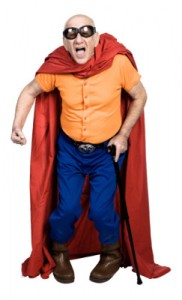 When I was 20 years old I thought;
over 50, well so long, nice knowing you
Now that I'm over 50 my attitude has changed since my 'younger days' .
Age is something that I don't often think about and it is no barrier to maintaining or starting a new hobby as long as I stay healthy.
In my day (gee, I'm sounding old) I've met many young old people and old young people.
I'd rather stay young old than just give up and wait until I keel over.
And to help me do that I  look  for inspiration from young old people who are engaged and enjoy life, regardless of their age.
Here's a young old person that inspires me.
It's  Larry Storch (F Troop – 60's hit tv series) doing standup comedy at the old young age of 85.
[youtube]http://www.youtube.com/watch?v=veEG-aA9cEs[/youtube]