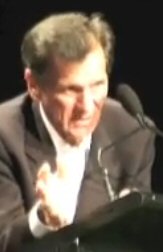 Diagnosed with pancreatic cancer and given 3-6 months to live, 63 year old Mike Wrubleski, Australian basketball identity,  gives an emotional speech.
He talks about his passion for basketball, his family and life.
Some of the sound and camera work are average but the four clips below are definitely worth seeing. It's not  a farewell speech but  more a reaffirmation of life and the importance of relationships and in particular, family.
It is an inspiring message and it does make me stop and think on what really is important in life.
And that is – relationships and family.
Part 1 – 9m 57s
Part 2 –  8m 48s
Part 3 – 8m 56s
Part 4 – 6m 29s