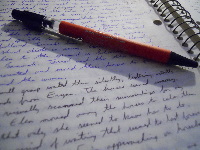 As I write the second draft of my memoir, I'm finding the word count is increasing in each vignette.
In some cases I'm doubling the number of words for each vignette I'm working on. If I keep up this pace I'll probably have about 150,000 words to work on for my third draft.  And hopefully the third draft will be my last – but I'm not holding my breath!
I'm not consciously focusing on a word count at this stage, as this would interfere with the stories I'm writing.  Padding a story to get a higher word count is usually obvious and clunky.
When I was at uni writing psychological practical reports, I'd usually pad out the report to fill the word requirement. But that sort of writing was as exciting as watching paint dry. And it showed, judging by the numerous red corrections splashed across my paper and the average marks I received
Now I'm simply taking my time to reflect and allow the story to unfold naturally. And the letters leap from my keyboard into the stories to form a more cohesive shape, expanding with additional threads that were not in the first draft.
And unlike my psych experience writing reports, my memoir is enjoyable and easy to write.
After all, it's MY story.