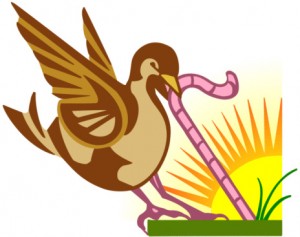 Well, my early writing starts have certainly been productive for my memoir.
I've now got 54 vignettes in draft form. That's 54 more if I kept to my old routine of waking up at 6.30am which now feels like a late start.
My schedule for week-days now is to get up at 5.50am: get ready – 6.30am: Chi Kung exercises – 7.00am: writing – 8.00am: breakfast. And I do need to get to bed by 10.00pm if I'm to get up at 5.50am otherwise I'm cactus.
I've tried to write at night and weekends but that wasn't happening on a regular basis and one day I decided 'that's it, early starts from here on in'.
It really is true what they say 'the early bird catches the worm (and the memoir).