It's taken awhile but I have finally conquered a bush walk called La La Falls.
All 3.2 kilometers of it.
And that's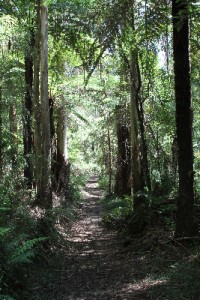 3 kilometers more than I'm used to walking!
La La Falls is located in Warburton, about 80 km east of Melbourne, Australia.
Sue and I regularly go to Warburton for planning days and on one occasion we attempted to walk the bush track but didn't get very far. It was wet and slippery so we thought we'd try again another time.
Well, a couple of weeks ago I had a go and I actually made it up the steep track without collapsing or calling for an emergency crew to bail me out.
I had my brand new camera back pack strapped on and a plastic water bottle attached. I looked like a real yuppie bushman.
About ten minutes into the walk I was starting to breathe heavily and I stopped for a break. I rang Sue on my mobile to let her know I was okay. She was parked at the entrance of the trail reading a book waiting for me to complete my epic journey.
A group of elderly people appeared, effortlessly walking down the track towards me and smiled. I smiled back and quickly regained my breath and put away my mobile phone, as any normal yuppie would do.
Anyway, I soldiered on up the steep trail, breathing the invigorating mountain air and feeling  like I was about  to discover the El Dorado of water falls. I expected something like Niagara Falls, a breath taking panorama of nature's raw energy.
I finally got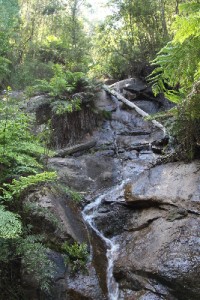 to the end of the trail and stepped onto the small wooden railed landing. And looked up.
There it was. La La Falls!
Not quite what I expected but I had made it.
I had conquered La La Falls.