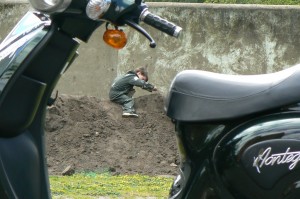 I was at the recent Celebrating Story conference at the Abbotsford Convent here in Melbourne Australia and I saw this kid playing in the background.
He was engrossed in playing  and sifting through the dirt, building what to him was a work of art. I couldn't resist the photo opportunity and quickly thought of an angle to take the shot.
I ducked down and and looked throught the motor cycle and took the shot.
Footnote: More photographs of the Celebrating Story conference