Perhaps the hardest thing to find when I go for a coffee is shoosh.
Now shoosh is not on the menu but I'm willing to pay any amount to get it.
What is shoosh?
Shoosh is quietness.
It's what I was told as a kid when I was loud and boisterious.
"Chris, shoosh!"
"A bit of shoosh thank you"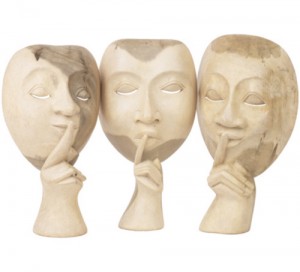 Now shoosh is what I want when a go for a 'quiet' coffee.
But I never get it.
There is always noise in the background, foreground and on the ground.
Cafés sound like speaker boxes.
Blaring away while I try to have a 'quiet' cup of coffee with a friend.
It's almost impossible to hold a conversation without shoosh.
Just like there is anti-hoon legislation here where hoons can have their cars impounded, I believe there should be anti-noise legislation in cafés introduced.
Imagine that.
A shoosh squad that has the power to enter cafés, rip speakers and plasma screens off the wall and chuck 'em in the bin.
That's my dream.
To have shoosh when I'm drinking my coffee.
Until then I have to put with the incessant noise .
And yell  'A bit of shoosh thank you!'