Sue and I were walking back to Flinders Street station (Melbourne, Australia) after attending an Edward De Bono presentation, which was held at a restaurant alongside the Yarra River.
I took this shot in Swanston Street. As you can see the weather was wet and miserable and it was mid afternoon. We were heading to the station to catch the Belgrave train back to Ferntree Gully, about an hour away.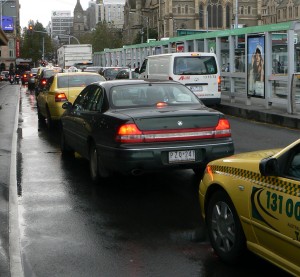 Click onto this picture and you will get a larger image.
That pink building to the left is the famous Young and Jackson's pub. One of its features, besides the booze, is a nude painting of Chloe by French artist, Joseph Lefebre, in 1876. The church on the right is St Paul's Cathedral, built in 1885.
Interesting that a pub and church face each other. I suppose you can sin and get redemption, within easy walking distance.
The tower in the background with the clock is the Melbourne Town Hall. The inside is a magnificient array of colonial past and also the headquarters for the Melbourne Comedy Festival. We often attend the festival and the main hall is ideal for comedy.
The reason for the photograph? Well, I 'm trying to improve my photographic skills from hopeless to 'not bad'. So I took the camera into town to take a few shots. I had it on manual, to experiment with different settings. The result? Woeful.
One day I going to read the owner's manual!