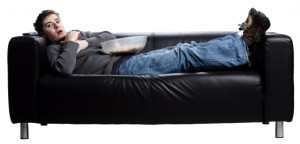 I've just returned to work after doing nothing big time during my holiday break.
My doing nothing big time holiday was just the tonic I needed after a very busy 2010.
My holiday activity/inactivity list:
couch time – several hours a day – for medicinal purposes
dvd's – many foreign titles and the last season of The Shield
television – basketball and channel hopping
staring out the window (not for long periods of time)
waking up whenever
going to sleep whenever
very little exercise apart from going to the fridge and returning to the couch
no thinking or analysing – too much of that in 2010
read four pages of a book – I didn't want to strain myself
I definitely recommend doing nothing big time during holidays. I feel refreshed and raring to go for 2011.
But before I do that, excuse me, while I just go and lay down on the couch. I need to get over my withdrawal effects.