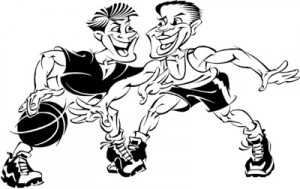 Lately I've been working on my screenplay which focuses on men's relationships.
It's set in the Australian basketball scene and my research has led me back to a basketball club I co-founded in 1974.
I  needed to tap into the 'feel' of coaching and of basketball again, so I can write an authentic screenplay set in modern times.
I'm currently following the U/18 boys' representative team which plays in the championships competition here in Melbourne, Australia. I'm attending their training sessions and games as an observer.
The other night I walked into a stadium to watch them play. As I looked at the three basketball courts in front of me I took a deep breath and was suddenly  'boomeranged' back into the past as a coach.
It was as if I had never left and the 20-year break vanished in a second.
Although I am still enthusiastic about basketball, watching American college and professional games on television, it's unlikely I'd go back to full time coaching again.
My basketball past is fun to visit but I don't want to live there.
Besides, 'I've been there, done that'.