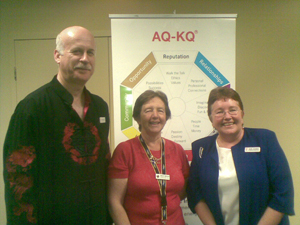 We had a wonderful time at the Wheelers Hill Lions club last night.
Sue and I delivered our 'Buzzing With Ideas' speech using our AQ-KQ concept. I got the chance to use Tai Chi which included getting the audience to feel the Chi from one of the Tai Chi postures. Also I had my double fans as a no noise signal which I used during Sue's segment which involved paired conversations.
When I snapped the fans some of the audience almost jumped out of their chairs due to the sound of the fans. I can snap a pretty mean fan when I need to!
The Chinese jacket I wore I bought in Singapore on a stop over to Nepal a couple years ago when we attended and delivered a workshop for the World Appreciative Inquiry Conference in Kathmandu.
That ovenight stay in Singapore was memorable. I took a lot of photos with my then new canon 50D camera. On the plane trip to Nepal I reviewed the photos in the back of my camera and thought 'hmm, I wonder what that does? – I pressed the button and deleted all of my Singapore photos!  Buts that another story which I'll call 'Dumb and Dumber.'
Anyway, it's always good to step out and deliver our speeches to community groups besides our professional gigs.