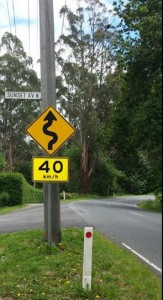 Here in Australia you're allowed to drive up power poles as long as you don't exceed the speed limit of 40km/h.
Yes, we are a bit quirky here in the land of oz – you have to be!
How else can you deal with the following:
Boxing Kangaroos
Watch out for those buggers, they fight dirty – they use their feet
Huge Shaaaaarks
They make Jaws look like a tadpole. Watch out for the ones that smile – they're deadly – known as smiling assassins
Vegemite
Sometimes known as axle grease but that's a bit harsh. I like vegemite on my toasted bread
The G'day Bug
Be careful – once bitten you will never be the same. Forever and a day you'll be saying 'G'day'.
Oh well, that's enough of reel aussie stuff so I'll finish by saying, 'G'day', drive carefully'.