This free eBook Chris Chats … about the good, the bad, the sad and the funny – vol 1 is one of a series of eBooks I plan to produce comprising selected short posts from my Chris Chats blog.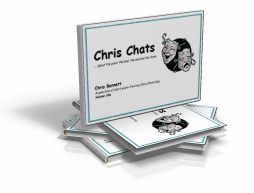 I hope you enjoy reading it and any feedback would be appreciated.
You are welcome to distribute this eBook for free to anyone you think might enjoy reading it.
CONTENTS
Jacques The Shark
Marysville Bushfire
Bogan Cavalier
Beware of Vampires
An Act Of Kindness
Corn Cobs, Remote Control & T.V.
Where's My Cappuccino?
The Day The Table Collapsed
Pongo
Slackawritis
Good Old Days
Picture This
Stable Manure
Next Train WAH – Platform WAH – Leaving WAH
Namaste
O.P.P's
Social Media Whirlpool
Manual Labour And Me
Box Brownie To Digital
Are You A Toad?
La La Falls Conquered
The Road To Kathmandu
Library Mayhem
Knit One Pearl Two
Fish And Chooks
Have Mercy
In Search Of Shoosh
Dumb Dumb Moment
Embarrassment Boots